Plexus Co.,Ltd and euphonic,inc. is proudly announcing the release of the e-Book version of Daido Moriyama's legendary series "RECORD : No.27" on November 9th, 2015.
The photos included in "RECORD : No.27″are all taken in Hong Kong in March 2014. This is the first issue of RECORD series with the mixture of Color and Monochrome photos.
"These photos were taken from what I'd rather
describe as "a promenader's view". " Daido Moriyama
Experts from the original text of Record No.27
Supported by : Akio Nagasawa Publishing and Daido Moriyama Photo Foundation
▶︎Detail
▶︎Press Release
▶︎Press Kit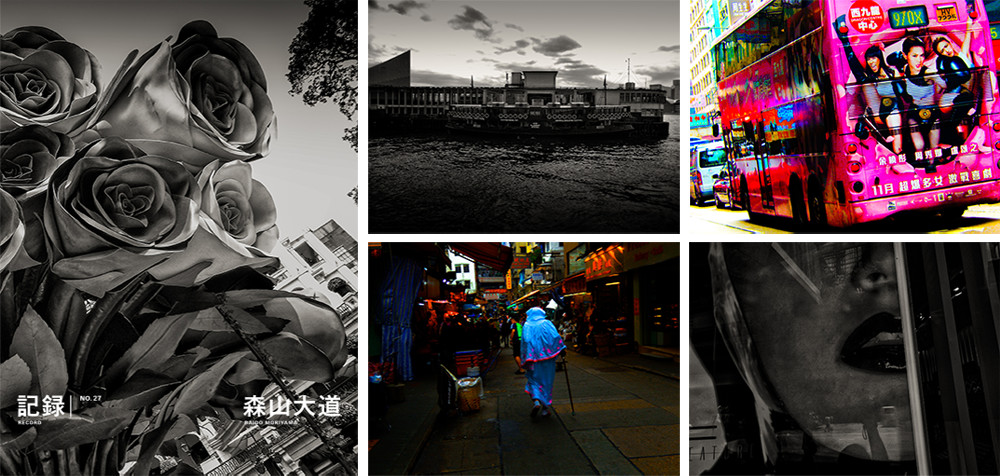 DAIDO MORIYAMA/Born 1938 in Osaka. After working as an assistant for photographers Takeji Iwamiya
and Eikoh Hosoe, he went independent in 1964. He has been publishing his works in photography magazines among others, and received a New Artist Award from the Japan Photo Critics Association for Japan: A Photo Theater in 1967. Between 1968 and '70 he was involved in the photo fanzine Provoke, and his style of grainy, high-contrast images that came to be referred to as"are, bure, boke"(grainy, blurry, out-of-focus) made an impact on the realm of photography. Solo shows at New York' s Metropolitan Museum of Art and the Fondation Cartier pour l'Art Contemporain in Paris solidified Moriyama's worldwide reputation, and in 2012, he became the first Japanese to be awarded in the category of Lifetime Achievement at the 28th Annual Infinity Awards hosted by the International Center of Photography (ICP) in New York. The"William Klein + Daido Moriyama"exhibition together with William Klein at London's Tate Modern in 2012-13 was a showdown of two immensely popular photographers that took the world by storm. Daido keeps going on enourmous amount of Street Snap under the motto…. "There are no Quality without Quantity". e-Book version of "Record series" was originally released in June, 2013 domestic in Japan, and it has been released worldwide in September, 2014 from Apple iBookstore and Kindle Store. e-Book version of "Record Series" will continue.