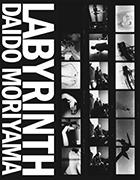 LABYRINTH
-Complete Edition-
Supervised by
Daido Moriyama
Photo Foundation
eBook
Published on 2012
eBook Published on June 4, 2015
*Price Varies in each region.
Release from Amazon Kindle Store/Apple iBookstore worldwide.

About
"I had to go through my entire film archive one by one to recon- struct the contact print for this book" Daido Moriyama
Looking back the whole films forced Daido Moriyama to take a journey to his own path as a Photographer. Each single Contact Sheet, reconstructed by himself, contains the essence of Daido's vision from the 1960's till now. Daido Moriyama named this book "LABYRINTH" by himself, reflecting the process of creation. Browsing through each shot after another shot creates the illusion of a motion and rhythm. We can reach out to the photog- rapher's heatbeat, soul and vision through this process. You will discover the alternative cut among the well known masterpiece and will notice how close you came accross the essence of Daido's instinct to release the "shutter".
This e-Book version of LABYRINTH is not just a "complete" edition, but is a joy for your eyes through the entirely new way to view each shots one by one, by enlarging each image,by swipe and pinch in/out & flick.
Supervised by Daido Moriyama Photo Foundation
Akio Nagasawa Publishing, Moriyama Daido Photo Foundation


TRAILER