http://www.plexus.tokyo
http://www.euphonic.co.jp
June 8th, 2018

PRESS RELEASE

---

Daido Moriyama "RECORD:No.36" e-Book Version
Worldwide Release

---
Plexus Co.,Ltd and euphonic,inc. is proudly announcing the release of the e-Book version of Daido Moriyama's legendary series "RECORD : No.36" on June 8th, 2018 .
■ Daido Moriyama RECORD No.36 e-Book vers.
Shinjuku Golden Gai district, which appears in Daido Moriyama's Record series quite often. This place was chosen to represent the film "Oh Wilderness"(あゝ荒野)based on Shuji Terayama's novel, which turned out to be Daido's new book under the same title. This issue embeds the chaotic backstreets of Shinjuku through Shibuya, and Ikebukuro…the clamor and stagnation of urban tokyo life.

Who is DAIDO MORIYAMA?
DAIDO MORIYAMA/Born 1938 in Osaka. After working as an assistant for photographers Takeji Iwamiya and Eikoh Hosoe, he went independent in 1964. He has been publishing his works in photography magazines among others, and received a New Artist Award from the Japan Photo Critics Association for Japan: A Photo Theater in 1967. Between 1968 and '70 he was involved in the photo fanzine Provoke, and his style of grainy, high-contrast images that came to be referred to as "are, bure, boke" (grainy, blurry, out-of-focus) made an impact on the realm of photography. Solo shows at New York' s Metropolitan Museum of Art and the Fondation Cartier pour l'Art Contemporain in Paris solidified Moriyama's worldwide reputation, and in 2012, he became the first Japanese to be awarded in the category of Lifetime Achievement at the 28th Annual Infinity Awards hosted by the International Center of Photography (ICP) in New York. The "William Klein + Daido Moriyama" exhibition together with William Klein at London's Tate Modern in 2012-13 was a showdown of two immensely popular photographers that took the world by storm. Daido keeps going on enourmous amount of Street Snap under the motto…. "There are no Quality without Quantity". e-Book version of "Record series" was originally released in June, 2013 domestic in Japan, and it has been released worldwide in September, 2014 from Apple iBookstore and Kindle Store. e-Book version of "Record Series" will continue.


Supported by : Akio Nagasawa Publishing and Daido Moriyama Photo Foundation

・Press Release PDF Download
・Press kit Download
---
■RECORD e-Book vers.
 ・RECORD Vol.1 - Vol.5 REPRINTED EDITION e-Book vers. US$45
 ・RECORD Vol.6 to Vol.22, Vol.33, Vol.34 e-Book vers. US$19 each
 ・RECORD Vol.23 to Vol.32 e-Book vers. US$26 each

Released from Amazon Kindle Store/Apple iBookstore worldwide. *Price Varies in each region. *Price Varies in each region.

All the detailed informations about Daido Moriyama's "RECORD" content and distribution is published at Plexus Website. Daido Moriyama on PLEXUS
http://www.plexus.tokyo/artists/daido/record/content/record_list_en


■About PLEXUS http://www.plexus.tokyo
Plexus is a Content Publication organization which aims to spread the possibility of the digital representation through the network communication. Our purpose is to provide a artist's outstanding works in cross medium genre including Visual/Photographic/Music, to introduce their contents in global scale by supporting their creativity. We provide the excellent works worldwide which will be cherished by the audience forever. We create the public place on the network to connect the creator around the world with the possible audience. We are the "Energy Center" aka "PLEXUS" of the network society, spreading over the globe like a nerve net.
■PLEXUS SNS
Twitter:https://twitter.com/d_plexus
Facebook:https://www.facebook.com/dplexus?ref=hl
■WEB site image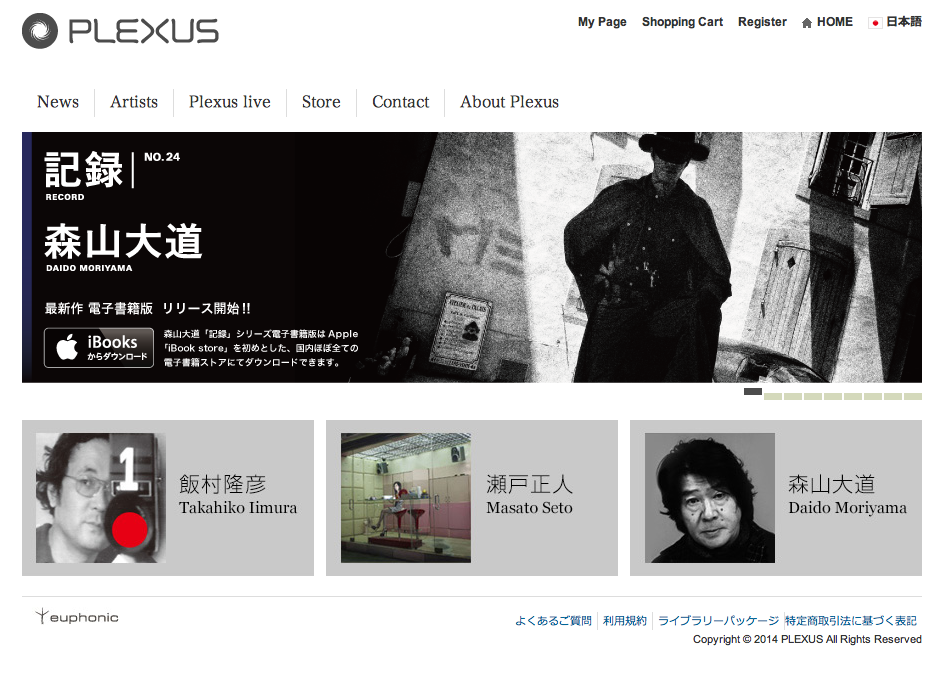 ■PLEXUS Artist
---
Sales・Planning
Plexus Co., Ltd.
Date of foundation:November, 2011
Capital:3,000,000 Yen
Location:Mercury Square 6F,
4-33-2 Yotsuya,Shinjuku-ku,
TOKYO 160-0004
TEL +81-3-5368-0511
FAX +81-3-5368-0510

Production
euphonic,inc.
Date of foundation:July, 1987
Capital:10,000,000 Yen
Location:Mercury Square 5F/6F,
4-33-2 Yotsuya,Shinjuku-ku,
TOKYO 160-0004
TEL +81-3-5269-8661
FAX +81-3-5269-8675


---
< Contact >
Plexus Co.,Ltd
info@plexus.tokyo
TEL +81-3-5368-0511 / FAX +81-3-5368-0510

---
iBooks / iTunes Store List
Argentina Australia Austria Belgium Bolivia Brazil Bulgaria Canada Chile Colombia Costa Rica Cyprus Czech Republic Denmark Dominican Republic Ecuador El Salvador Estonia Finland France Germany Greece Guatemala Honduras Hungary Ireland Italy Japan Latvia Lithuania Luxembourg Malta Mexico Netherlands New Zealand Nicaragua Norway Panama Paraguay Peru Poland Portugal Romania Slovakia Slovenia Spain Sweden Switzerland United Kingdom United States Venezuela
Amazon Kindle Store List
amazon.com amazon.co.uk amazon.fr amazon.de amazon.ca amazon.it amazon.es amazon.in